The Power of the Facebook "Like" Button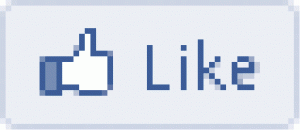 We've all seen the Facebook like button. As a matter of fact, yesterday marked its first birthday. You may see the new one I just added to my site. But why is it so successful?
The primary reason of the button's success is its simplicity: no logins are required, no popups to click a share button on and potentially have to type in a username and password: the same reason sites with "Facebook Connect" are so popular. (example: Quizlet)

Users today want something that just works, no hassle required. While it may not seem that hard to just click on a popup that takes 5 seconds to load, users don't want that. They want something easy that takes less than a second to do: 1 click.
That's why the "Like" button is so powerful. The like button will let webmasters have their links go viral much easier. You should implement it to have people share your links without being troubled. It's just so easy to share links with it.
---
Thanks for reading my post! If you enjoyed it or it helped you, please consider liking/tweeting this page, commenting, or following me on GitHub or Twitter!
---