iPhone 4 announced at 2010 Apple WWDC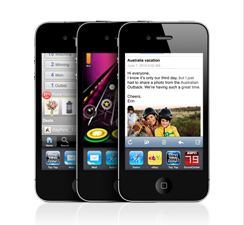 On June 7th, 2010, Apple revealed its brand-new iPhone at its annual worldwide developer conference. Looks familiar, right? It was the same iPhone picked up a few months ago by Gizmodo -- only this time, it's real, confirmed, and tested.

Style
First off, the new iPhone is very stylish. Many are bashing it's rather angular look, but it's actually not that bad.
The phone is 0.11 inches thinner than the 0.48-inch iPhone 3Gs being at an anorexic 0.37 inches, so those of you with tight pockets will really appreciate it. The phone is also narrower -- 2.31 versus 2.44 inches. The weight of 4.8 ounces remains constant, but the size difference makes the iPhone 3Gs look like a bag phone. (not really, but you get the point.) After holding this sleek gadget, rounded corners may not as great of an enhancement at all.
The volume buttons are now separated, which I don't really find too attractive. The face and back are covered in an oil-resistant glass, according to Apple. The aluminum edging doubles as the device's three antennas.
Display
Thanks to the Retina display, everything you see and do on iPhone 4 looks amazing. Text in books, web pages, and email is crisp at any size. Images in movies and photos are stunning at almost any angle. That's because the Retina display's pixel density is so high, your eye is unable to distinguish individual pixels.
The new "Retina" display  -- named for having more pixels than the human eye can see -- packs 960 by 640 pixels into the screen -- that's four times the 3Gs and the highest on the market. These 326 pixels per inch were specially developed by Apple to be 78 micrometers each. The display uses a technique called IPS to provide a higher viewing angle than the 3Gs -- the same technology used on the iPad. The phone has an 800:1 contrast ratio.
Sounds like the difference between a DVD and a Blu-ray disc. Same information, major difference.
Multitasking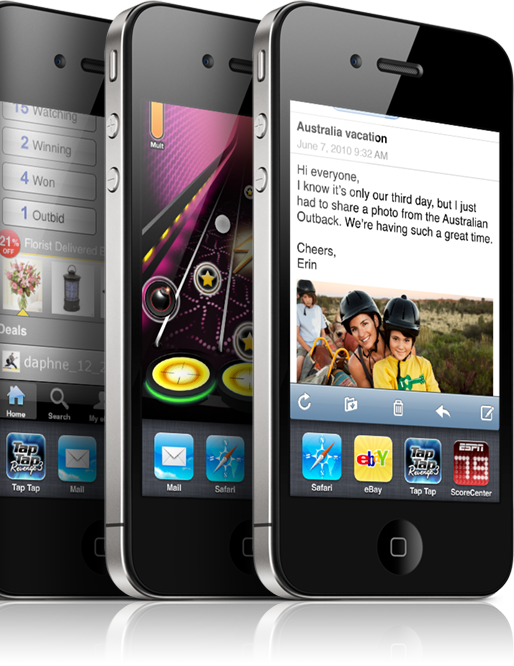 Now you can run your favorite third-party apps — and switch between them instantly — without slowing down the performance of the foreground app or draining the battery unnecessarily.* This smarter approach to multitasking is available only on iPhone.
Finally, the critics are defeated with this new enhancement.
The Home button now leads to creates a little menu at the bottom of the screen while you're in an app. It shrinks your current screen and lets you select an app from that menu. You then switch to that app and your old app's session is stored, letting you go back to the app as you left it. For easier navigation, there are app folders, too.
You can also listen to audio from an app -- Pandora users, meet heaven. You don't have to stay in the app to listen to it, in other words. VoIP is also possible while using other apps. For Skype, you can call and go to your email at the same time -- just like normal calling.
Apps can also be run in the background when doing something like uploading a picture -- no more waiting around for your Facebook photo with slow wireless. Additionally, push notifications are still here.
5-Megapixel Camera with Flash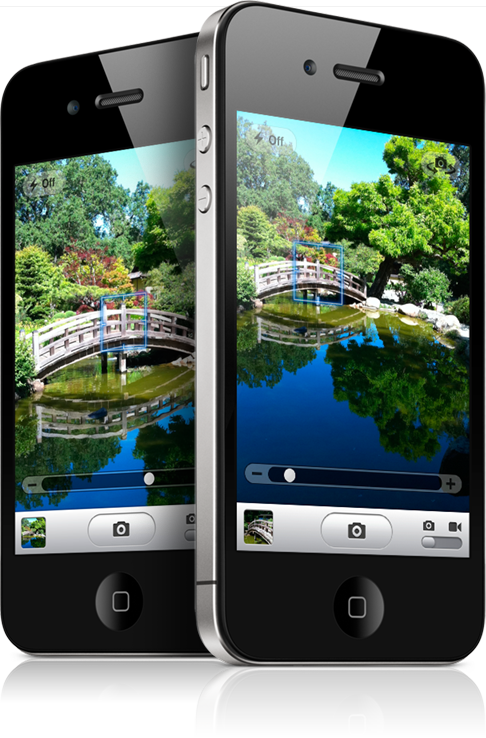 Never miss a photo opportunity. The 5-megapixel camera built into iPhone 4 captures amazingly detailed images. A built-in LED flash illuminates low-light scenes. And the 5x digital zoom gets you closer to the action. You can even shoot self-portraits with the front camera.
Finally, take those pictures in the dark with faster shutter speeds! With 5x digital zoom and 5 megapixels, this camera is almost as good as a point-and-shoot. Even better, you can take pictures of yourself for whatever reason.You can also focus by tapping on what you'd like to focus on instead of auto-focus. Plant in your way? Put it out of focus!
Other cool stuff
Video calling is possible with FaceTime -- with both cameras. A top microphone is built into the new iPhone for noise-cancellation for better phone calls. iBooks will let you catch up on your favorite novels. Edit videos with iMovie. There's one e-mail inbox for easier browsing. There's just so much to love about this new iPhone.
A common misconception: there will be no 4G in this phone. First of all, AT&T doesn't even have a network to handle it.
To get or not to get...
The new iPhone 4 will start from $199, the same price as where the old iPhone 3Gs started just the day before, with that 3Gs going down to $99 and the 3G being wiped off the market.
Most likely, I'm preordering it, as I need a serious upgrade from my three-year-old hunk-of-junk first generation iPhone with a crappy case. On June 15, you'll be able to preorder from the official iPhone site. The party starts June 24 -- you don't want to be late. After all, there's going to be huge lines, so I recommend the preorder greatly if you're sure of purchasing this great hunk of metal.
And now we wait.
---
Thanks for reading my post! If you enjoyed it or it helped you, please consider liking/tweeting this page, commenting, or following me on GitHub or Twitter!
---