Site Spotlight: Club Uber

If you've been wondering I've been not posting for such a long time (almost a week) I've been doing much. I had a few exams this week involving reading etc. But one of the biggest things I've been doing is reviving my old website, Club Uber. Club Uber was my first PHP-powered website designed in 2007-2008. Recently, though, I have been working on my latest website, D Critic. Therefore, Club Uber was abandoned. Now I am racing to get it to the status it was at before: active.

The origins of Club Uber
Back in 2007, I was working on making a website that my friends would actually like. My older websites were all pure CONTENT-- no games, no chatting, no nothing. Later I discovered that content could be dynamic using PHP. I used the Fantastico installer to install my first installation of PHP-Fusion. I looked to see REAL programming! HTML was like a second language to me at the time and I found it boring. After seeing what programming is, I decided to edit code.
The programming language of PHP was relatively easy to understand. It was mostly in English. The code of PHP-Fusion was VERY poorly-written and very easy to understand unlike Wordpress. I eventually learned it over the summer of 2007.
The first Club Uber featured a chatroom, messaging, and forums. Unfortunately, it was missing many big things that people wanted -- games. I did add games eventually and the site became a hit.
At the height of its popularity, I would have had about 20 users logging in every day with 4 users staying on during the entire summer of 2008. My site was incredibly huge and quickly bypassed the 500,000 visits mark.
Then I learned about WoW. I was addicted and stopped posting to the site. Eventually, the site expired in 2009 and all was lost.
Today I present to you the Club Uber from the summer of 2008. I really hope you make this site a hit once again. Make it work.
In a nutshell, what is Club Uber?
Club Uber is a gaming paradise.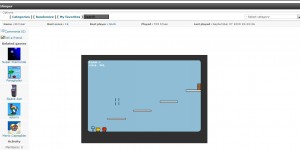 Club Uber is a place to review things.
Club Uber is a video sharing site.
Club Uber is a virtual pet site.
Club Uber is a forum.
Club Uber is an instant messaging service.
Club Uber is a search engine.
Club Uber is an email service.
Basically, Club Uber was built for the purpose of entertaining ALL audiences. It was the ONLY site you'll ever need and allowed everyone to have fun.
The site lets you collect money which could be used around the whole site.
IT'S FUN!
---
Thanks for reading my post! If you enjoyed it or it helped you, please consider liking/tweeting this page, commenting, or following me on GitHub or Twitter!
---