Black Eyed Peas Give a Stunningly Horrible Performance on Idol Gives Back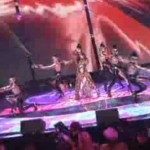 Normally, I love the Black Eyed Peas, them being my most played album on my iPod and all, but today, they gave probably the worst Black Eyed Peas performance EVER. By ever, I mean EVER.

Tonight, they sang "Rock that Body" to promote Idol Gives Back. It probably kept donors from donating, though.
httpv://www.youtube.com/watch?v=BT2DDkPT-_4
See what I mean? Maybe apl.de.ap's mic was lagged or Fergie's mic was rigged. Yes, apl.de.ap was late almost every time. Maybe the sound guys didn't adjust the system for an entire group of people. Nevertheless, the performance looked horrible on screen.
Or maybe they didn't want to donate.
What do you think of this performance?
---
Thanks for reading my post! If you enjoyed it or it helped you, please consider liking/tweeting this page, commenting, or following me on GitHub or Twitter!
---