4 ways people have gotten rich exploiting the Internet
[caption id="attachment_560" align="alignright" width="150" caption="Hehe... thanks for the identity!"]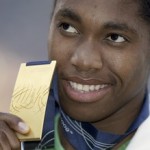 [/caption]
There are two things scammers try to take from users on the internet: identities and money. With money, they get to live good lives. With identities, they get to get money to live good lives. Here are 4 of the most popular ways scammers have gotten rich off of exploiting you on the Internet.

1. Rogue Security Software
[caption id="attachment_561" align="aligncenter" width="614" caption="Hey look -- Microsoft is selling a software that claims Microsoft is bad!"]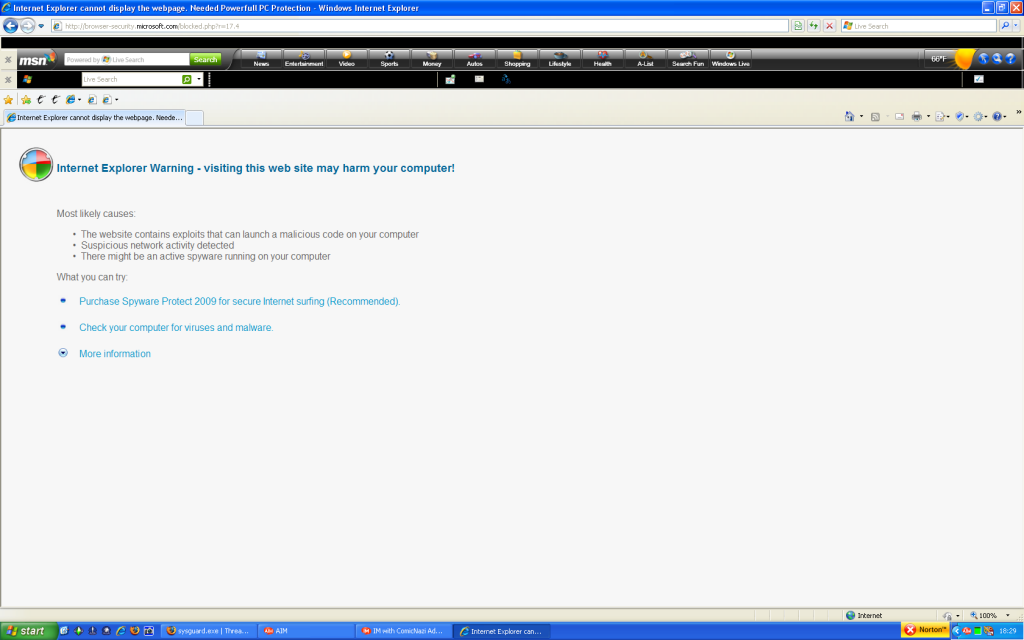 [/caption]
Rouge security software is basically antivirus software that posts fake warning messages. A great example of this would be Spyware Protect 2009 -- it claims to be made by Microsoft but in reality is made by hackers. They sell the software for $50. According to one source, one affiliate earned over $150,000 per week by selling and promoting this fake software.
2. South African Lottery Scams
[caption id="attachment_560" align="aligncenter" width="300" caption="Hehe... thanks for the identity!"]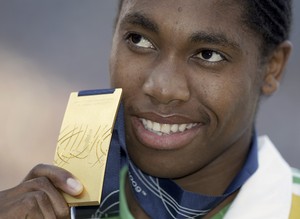 [/caption]
These are very infamous scams which involve lotteries. Look at the example below.
ATTENTION: WINNER,

This is to inform you that you have won a prize money of (GBP£400.000.00)(Four Hundred Thousand British Pounds Sterling) for the month of April, 2009 Prize promotion which is organized by GMAIL-HOTMAIL-YAHOO AWARDS & WINDOWS LIVE and all other domain through Gmail-Hotmail and Yahoo subscription.

YAHOO/GMAIL/HOTAILS & other SUBSCRIBERS collect all the email addresses of the people in and outside YAHOO emails users that are active online, among the millions that subscribed to YAHOO, HOTMAIL, GMAIL and few from other e-mail providers. Eight people are selected yearly to benefit from this promotion and you are one of the Selected Winners.

PAYMENT OF PRIZE AND CLAIM.

All winners shall be paid in accordance with his/her settlement and winning Centre either in Johannesburg Republic of South Africa or Manchester United Kingdom. GMAIL/YAHOO/HOTMAIL Prize Award must be claimed no later than 30th of June 2009 from the date of Draw Notification. Any prize not claimed within this period will be forfeited or face a penalty of £600.00 (Six Hundred British Pounds Sterling) being an extension and reactivation fees.

You are advised to send the following pieces of information to him

(Your Claims agent) to facilitate the release of your fund.

1. Full name...............................

2. Country..................................
3. Contact Address.....................
4. Telephone Number.................

5. Fax Number............................
5. Marital Status.........................
6. Occupation.............................

7. Date of birth............................

8. * Choose any of the following options for fund remittance:-

1. Telegraphic Transfer

A. State your full account details

2. Post Cheque

B.State properly your safe receiving address

Fax: +27 865 308 982

Rev.Roseman Paul

(IML Attorney And Claims Agent)

Republic of South Africa Representative.
Tel: +27 832 401 581

Tel: +27 114 871 037
In these scams, victims give their identity to these scammers. This is an identity theft scam. They then can use your identity to open up accounts that you don't know about, withdraw money, get jobs, etc.
To tell if a lottery/sweepstakes is real or not, follow these guidelines:
If you didn't enter, it's not legit
Follow #1
After that, you'll be safe.
3. Nigerian E-mail Scams (419 Email Scam)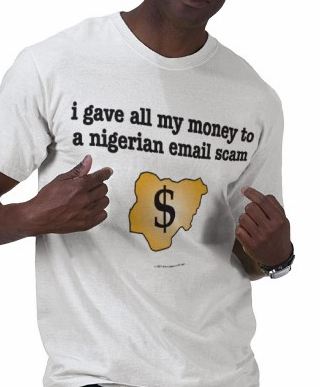 Mostly everyone who gets spammed gets some of these Nigerian E-mail Scams. Heck, they even have t-shirts about this common scam. The scam, after all, has been going around for at least 10 years. The scam is called the Nigerian 419 email scam. Typically they're written in all CAPS, but in some cases, such as this one, they use upper/lowercase.
These scams usually consist of paying money in advance to "fund a transaction" to your account. They let you pay the fee to get $10 million (or something similar to that amount) but in reality, they're just ripping you off and not paying you. They then proceed to take all of that money and run off living happy lives.
Here is an example of one of these email scams.
Dear friend.

With due respect,

Don't be surprised or afraid to receive this type of message from me.

Well, I am (Mrs Mary Philip) Immediate sister to (Late Mrs Stella Obasanjo,first lady and wife of the President of Nigeria) who died on 23rd of October 2005 in Spain after undergo surgery and die of Complication resulting from the surgery. My Sister left the sum of Thirty Nine million united state dollars ($39M USD) with a security and delivery company here in ABIDJAN when she was alive.

Confidentially, this sum was kept as a secret since she was controlling woman affair an chairperson Nigeria family Support program,so she kept this money in case of emergency as Family Valuables,Real content unknown to the security firm. Unfortunately she lost her life after a brief illness.

Above all, since nobody is aware of the deposit she made, and I don't want this deposit to be inspected,because the real content is not known. my request of foreigner as beneficiary in this business is occasioned by the fact that my late sister deposited the Box in favour of her foreigner business associate but no name was indicated as a foreigner.

For your assistance, i agree to offer you 40% as the beneficiary of the money and will be delivered to your door step and 5% will be aside of any expenses during the Delivery.

Therefore, to enable immediate Claim of the Deposit as indicated, you must apply first to the Security Firm head office in Abidjan as Beneficiary, by indicating your Delivery Address where the Deposit will be Delivered . You must be interest to note that I have all the necessary legal documents which we will use to backup this claim successfully.

All I require is your honest cooperation to enable us seeing this deal through.I guarantee that this will be executed under a legitimate arrangement that will protect you and me from any breach of the law. I hope you will welcome this life opportunity, if so please get back to me in confirmation of your good interest to enable us starts to proceed.

I am looking forward to hear from you, to enable me send to you the text of application which you will fill-in your details where the Delivery will be sent and tender to the Security Firm for immediate action.

Thanks in anticipation of your kind co-operation.

Best regards,

Mrs Mary Philip.
These scams usually do seem legit at first. When researching these people, I found that all of the people and facts were real. But once you Google the scam's contents itself, it proves to be yet another Nigerian scam.
Here's how to prevent yourself from getting scammed:
Don't trust Hotmail, Yahoo, MSN, Gmail, etc. emails
Nigerians can handle their own problems
4. [Google] Work From Home Scams
The other day, I was doing my business when I spotted a link to the Los Angeles Tribune's article on working from home using Google. Being my extremely curious self, I clicked the link.
The Los Angeles Tribune
[caption id="attachment_558" align="aligncenter" width="602" caption="Doesn't look suspicious at all, right?"]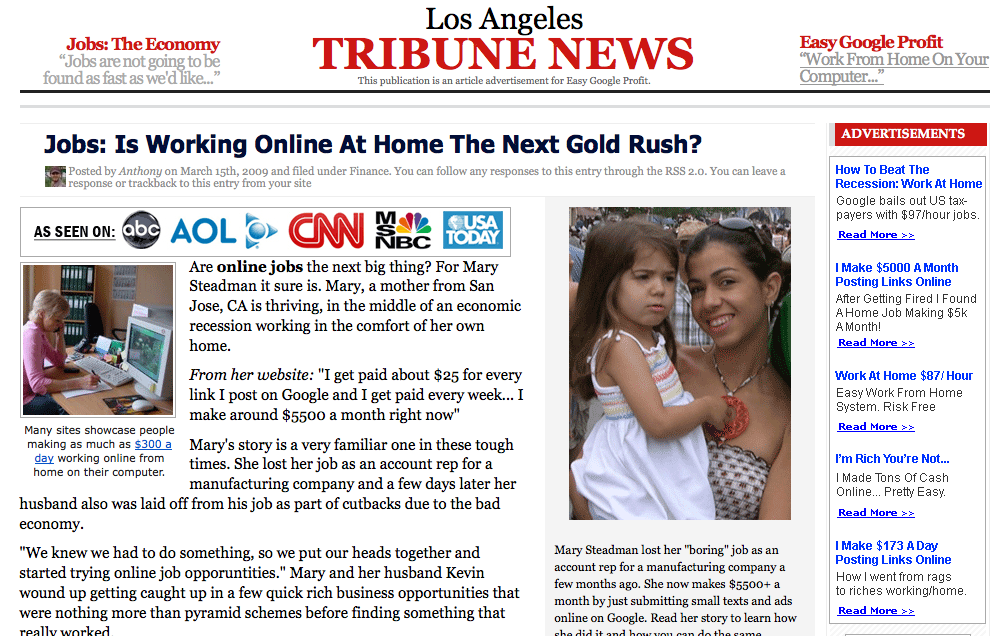 [/caption]
Since this "Los Angeles Tribune" looked so legit (what with the nice urls and links to other news articles) I decided to read up on this blog post. It talked about a woman named Mary Steadman who decided to work from home using Google. Because of Google, she now makes $5500/month. She used a service called "Easy Google Profit". It said it was featured on ABC, AOL, CNN, etc., so I decided to click on the link.
Whoa! EASY GOOGLE PROFIT?!?!?!
Hmm... work at home for profit with just a computer and basic typing skills? Sounds like fun!
[caption id="attachment_559" align="aligncenter" width="573" caption="3 Easy steps? THIS CHEAP?!?!?"]
[/caption]
It's a risk free method! Featured on legit websites! Sounds great! Make up to $200-$943 PER DAY!!!
But wait -- the terms and conditions!
You have also subscribed to a fifteen-day trial to Grant Spring for just $24.87 a month and every month thereaftershould you chose not to cancel. Prior charges for all programs are non-refundable but bonus subscriptions can be cancelled and future charges stopped at any time by calling toll free 888-247-2155.

If you choose to sign up for this product and pay the recurring monthly charges using a debit card you hereby provide pre-authorization and consent that blazingkeywords.com may charge $77.82 on a monthly basis. You may stop payment on any pre-authorized charge by notifying blazingkeywords.com at least three business days prior to the scheduled charge date. You agree your pre-authorization and written consent to charge your debit card is given in electronic form by submitting the request for the membership, and that an electronic signature is sufficient to authenticate your authorization to charge the debit card. You further agree that these terms and conditions shall be your copy of your pre-authorization for the debit card.
Aww man... they're ripping us off...
So basically, they say it's $1 to buy the kit, but you have to pay for all this extra stuff? Plus, you're using Google AdWords to do all of this, so you could have learned everything for free?
I'm guessing this scam was made to promote slow businesses like Grant Spring and blazingkeywords.com... but this is one bad scam! Impersonation, etc... I'm surprised they're not in jail!
---
Thanks for reading my post! If you enjoyed it or it helped you, please consider liking/tweeting this page, commenting, or following me on GitHub or Twitter!
---