Site Spotlight: Linkbait Generator - Generate Posts Easily With This Tool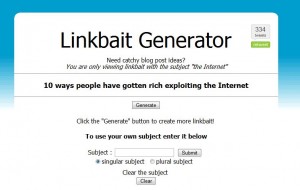 Ever ran out of ideas for your blog? I have. Well guess what? There's a free tool available online that lets you come up with blog posts pertaining to a topic! It's called Linkbait Generator.

To use Linkbait Generator, you click the generate button. To use your own subject, you may input either "singular" or "plural" subjects. It's pretty straightforward; not much to say about it.
They have an option of blogging on their site, which I think is stupid. To each his own, though.
I have used this to write a few of my blog posts.
How about you?
---
Thanks for reading my post! If you enjoyed it or it helped you, please consider liking/tweeting this page, commenting, or following me on GitHub or Twitter!
---