The iHome FastTrack Laser Mouse by LifeWorks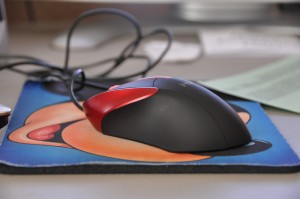 There are many great computer mice on the market, but it's a sort of paradox. Ergonomic mice usually are super-expensive and cheap mice look, act, and feel cheap with horrible sensitivity and lifetime. The folks at LifeWorks, though, have created a mouse that fulfills all of the requirements of a gaming mouse while still maintaining a low price.

[caption id="attachment_381" align="alignleft" width="300" caption="The iHome FastTrack Laser Mouse by LifeWorks"]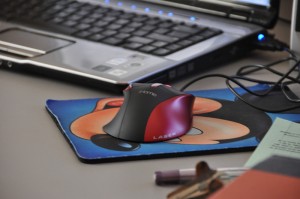 [/caption]
With its laser-mouse design, the iHome has worked on virtually any surface I have used. Although I use a mousepad, it has also worked on the actual desk, on a glass table, and hardwood. The sensor is highly sensitive at 1600 dpi, but I like to keep it at 800 dpi (there's a button to change the setting) since 1600 is very fast. (In other words, for those who need precision, this is a great mouse.)
The mouse also glides very easily on most surfaces. It grips paper, though, so don't be putting papers under the mouse.
As you can see, the design is highly ergonomic and fits nicely into your hand. My old mouse was a Targus Bluetooth mouse, and since it was a travel mouse, it didn't fit nicely at all and gave me many hand pains. Ever since using this mouse, though, I've gotten less hand pains. The thumb curves and fits nicely in the little groove on the left, and the pinky stays nice and cozy.
I purchased my mouse at Ross (you know, dress for less) for $30 but you can also buy it at Amazon for less than $20. It's an amazingly great deal for a laser mouse; I was surprised at the quality when I first used it. Also, it's a plug-and-play mouse, so no driver softwares need to be installed.
Buy it here: iHome FastTrack Laser Mouse (Red)

As you can see, the design is very sleek and stylish. I'd highly recommend this mouse to anyone who wants a good, ergonomic wired mouse under $20.
---
Thanks for reading my post! If you enjoyed it or it helped you, please consider liking/tweeting this page, commenting, or following me on GitHub or Twitter!
---